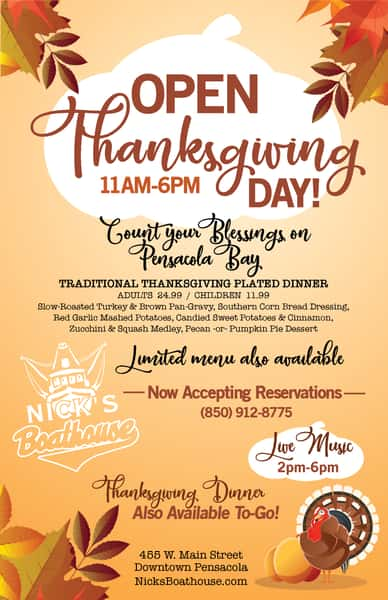 Thanksgiving at Nick's Boathouse
Count your blessings on the Bay! Join our family for a delicious traditional Thanksgiving Dinner, live music, and best of all... NO dishes or clean up! 🙌🏽

Reservations and walk-ins welcome from 11am - 6pm for our traditional Thanksgiving plated dinner & limited Nick's Boathouse menu. 

Make your reservations now!
(850) 912-8775

THANKSGIVING PLATED DINNER:
Roasted Turkey with Brown Pan Gravy, Southern Corn Bread Dressing, Zucchini & Squash Medley, Mashed Potatoes, Candied Sweet Potato Yams, Pecan -or- Pumpkin Pie
ADULT 24.99 / CHILDREN 11.99

Also featuring live music from 2-6pm, NFL Football on the screens, and outdoor dining available on the Nick's Boathouse Deck.
CLICK HERE FOR THANKSGIVING 2021 MENU